Considered the "gold standard" for liver health, Milk Thistle Extract is used as a natural way to optimize liver function and promote detoxification.

What is Milk Thistle Extract?
Milk Thistle has many different benefits but is most known for being a natural liver supporter. This powerful herb has been used for centuries to help detoxify the body, especially the liver.
Our Complete Milk Thistle Extract contains a premium-quality extract standardized to 80% Silymarin (the active ingredient in Milk Thistle), combined with
500mg Milk Thistle Seed per vegetarian capsule
.
Health Benefits of Milk Thistle Extract
When working properly, the liver acts as a filter to remove harmful toxins and substances in your body.
Milk Thistle helps support the liver's own natural detoxification process and has been shown to possibly decrease or even reverse damage to the liver. So if you are looking to start any liver detoxification program, this is the supplement to start with!
 
Milk Thistle also has antioxidant properties that are just as potent as important nutrients like Vitamin E or Vitamin C. This helps to fight free radical damage, slowing the aging process and protecting your immune system.
Why Our Milk Thistle Extract is a Great Value
There are literally hundreds of different Milk Thistle products available on the market today where quality varies dramatically.
Our formula undergoes rigorous testing to ensure the highest potency of Milk Thistle Extract for effective and efficient results.
• 
Fresh, potent, standardized extract plus 500mg per capsule of micro-ground Milk Thistle Seed
• 
Laboratory tested to contain 80% Silymarin
• 
All capsules are guaranteed to be 100% vegetarian
Customer Reviews
07/21/2021
Randal G.

United States
Healthy liver
I have used this product for a few years now. I have watched my elevated liver enzymes return to normal readings. I attribute some of the reversal to this product, as research has shown it to help restore liver heath. Wholehealth is the best product out there, in my opinion. RG in California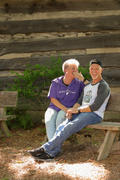 07/13/2021
Anonymous

Australia
Milk Thistle
I have been using the Milk Thistle for a number of years after getting a high liver reading. Now my reading is normal.
No fillers!
Read ingredient labels! I choose this product because it is all natural, lab tested to contain 80% Silymarin with vegetarian capsules and NO filler! Other products I have considered included rice powder. Great price too.
To Top